My name is Max Raulff.
I was born in Berlin but moved a lot during my life.
I have lived in Frankfurt, Munich, Rome, London, Paris, as well as in New York and Los Angeles.
My father worked as a journalist for many years and evoced my interest in travel, writing and photography at young age.                          Time after time I  took over all of his old analogue cameras, which were mainly Leica and Nikon 35mm film cameras.
My serious work as a photographer probably started when I was about 16 years old, which was when my father got me my first digital Nikon DSLR as a birthday gift.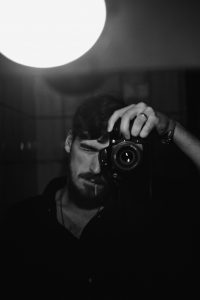 Today I stil use both digital as well as analogue technique. My favorite cameras are a small, yet excellent digital Fuji Xpro 2 as well as a Leica M2, but I basically shoot with anything I can get my hands on.
My street photos are heavily influenced by the work of German photographer Barbara Klemm, who happens to be an old friend of my family. She always served as a model to me when it comes to street and journalistic photography.                                                                           Other photographers that I find myself inspired by are street photographers such as Robert Frank, Henri Cartier-Bresson and Brassaï, Ernst Haas – whose colour theory I admire – , Robert Capa, Don McCullin, Helmut Newton, Peter Lindbergh, Richard Avedon and the one and only Ansel Adams.
As you may have noticed from the artists named above my interest in photography is by far not only limited to one specific field.                       Travel, street and portrait photography will always stay in the center of my attention, but I always enjoy discovering new fields and trying out new approaches to the subject of photography.